Silk Scarf Dis02 Butterflies of the Aurunca Land
The square Scarf in Twill of Pure Silk with faux hand finished edge of the sustainable fashion luxury brand Lisa Tibaldi Terra Mia it's a great gift idea to give or to give ourself!
The exclusive Design nr.02 of the Series Butterflies, inspired by some of the 101 species present in our Aurunca Land (in the lower Lazio),is illuminated by the application of original Swarovsky thermal micro-rhinestones, made exclusively in colors and sizes of our butterflies.
The luminous and 3D effect is original for an ever more refined and never trivial elegance.
With its wide range of colors, it goes well with different styles: from Ethno Urban to Animalier, passing through the Country Chic! 
MAINTENANCE
Store the Scarf on a non-knotted surface
Avoid contact with chemicals, or spray perfumes directly on the garment
For washing, contact a professional
Dimension: 90 x 90 cm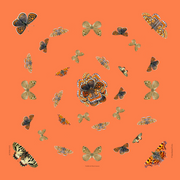 Silk Scarf Dis02 Butterflies of the Aurunca Land