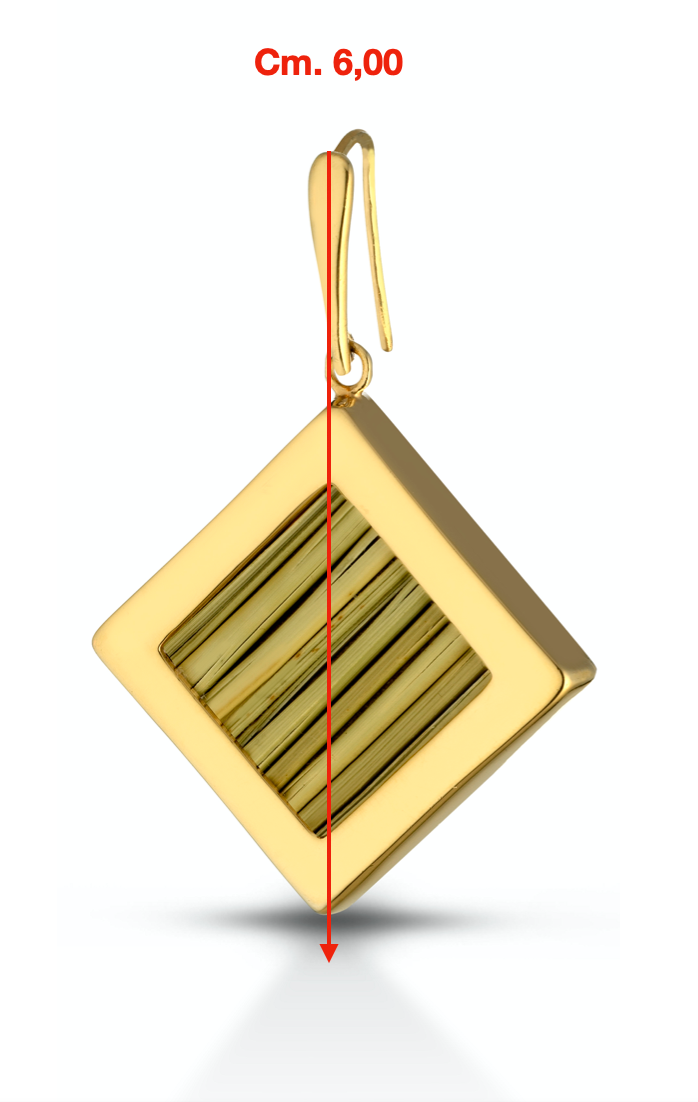 Square Series Short square dangle earrings in Semiprecious metal and ''Stramma'' leaves
Do you want to give or do you want to give yourself a Bijoux with an original Design, Precious, Handmade in Italy, with a Green Soul?
... Here, the Lisa Tibaldi Terra Mia Brand of Eco-sustainable Fashion Accessories, has created the Bijoux Collection of High Handcrafted Costume Jewelery using semi-precious metals to frame the handwork of "Stramma" (dialect term that indicates a spontaneous plant of our Aurunca Land - in the lower Lazio, formerly used for basketry).

The short square dangle earrings in shiny metal and leaves of Stramma are refined, versatile objects that are well suited to sporty or elegant outfits.
Technical Characteristics
Short earrings handmade in shiny metal with galvanic (in the Gold color in photos), with 1 square module, branded with the Lisa Tibaldi logo and with a double face Stramma leaf insert. They have a hook clasp. Total length of earrings: 6.00 cm .

One size fits all. Also available with Silver - Gold and Rose galvanic.

Stramma as a vegetable fiber, over time, tends to change its color towards a straw yellow.

Attention: Due to the particularity of the materials and for the good preservation of the object, it is recommended not to wet it, spray perfumes or other liquids on it. Clean only with dry cloth.
Square Series Short square dangle earrings in Semiprecious metal and ''Stramma'' leaves